When we purchased our home I knew instantly that the fireplace in our living room would be the focal point. It just begged for something new to bring it back to life (please no offense to the family portrait).
I just didn't figure a large photograph of Hubs and I hanging over the fireplace would be the design direction I wanted to take.
But ... there was no denying that this could look very beautiful as I adored all the ornate detail. I started searching for the perfect mirror to hang above the mantel.
I already owned this metal mirror so it was used temporarily until I could find what I would describe as the 'perfect union'.
After searching yard sales, flea markets and antique shows, who would have thought that I would find this mirror at, of all places, HomeSense?
Have I ever had fun decorating this mantel for the past 7 months!
CHRISTMAS - with my putz inspired houses that I collect.
VALENTINE'S DAY - with my vintage chalkware cherubs.
My precious Easter putz inspired house.
And now my latest summer mantelscape! (I do hope that is a word)
It consists of garden statuary, sweet birdie tealights, some dried flowers, a decorative metal grate and an antique window frame.
With each changing season and holiday I will continue to enjoy refreshing my focal point.
I'm linking to Funk Junk Interiors Saturday Night Special.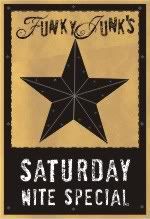 Cheers - Lisa