We moved into our home during the dead of winter. How disappointed I was when spring arrived and our front garden consisted of a tiny, dismal patch of grass. There were even large divets left from the tires of the moving truck. I lived with that for one summer while I planned my new front garden. I am a very traditional gal so I was dreaming of an english style garden with a beautiful stone fountain.
And then I saw these - Basalt Columns! My BF had them on display at her Koi Nursery and it was love at first sight. Basalt Columns are formed when lava floes crystallize over time and grow into long vertical columns. These were then drilled through vertically in order to allow water to flow through them.
First Hubs built a screen from lattice as a backdrop to the new garden. (Notice one of the columns laying on the ground? It took 4 strong men to lift it out of my van onto the front lawn).
The sod was all removed.
A very large Aquabasin had to be dug into the ground. This is where the filter would be hidden for our water feature.
Yes, this is me swinging the pick-axe! Whew ... what a job.
Finally the basin is in the ground. The filter was installed and two of the three columns were up and running!
After the addition of new soil and extensive planting here was the finished product! And we won a front garden recognition award that first year it was installed!
And now ... one year later!
I'll be linking this post to Funky Junk Interiors Saturday Nite Special!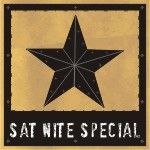 Cheers - Lisa